Atento led the Radar Frost in Innovation (score of 4.5 out of 5); obtaining an above-average score on the Growth Index
New York 11 March 2021.Frost & Sullivan has recognized Atento as a leader in the Frost Radar™: for Customer Experience Outsourcing Services Market in Latin America. This recognition rewards Atento's experience in the CX field as a result of the continuous innovations they are carrying out, which, combined with the human touch that the company provides, positions it as a leader in the next generation of customer experience.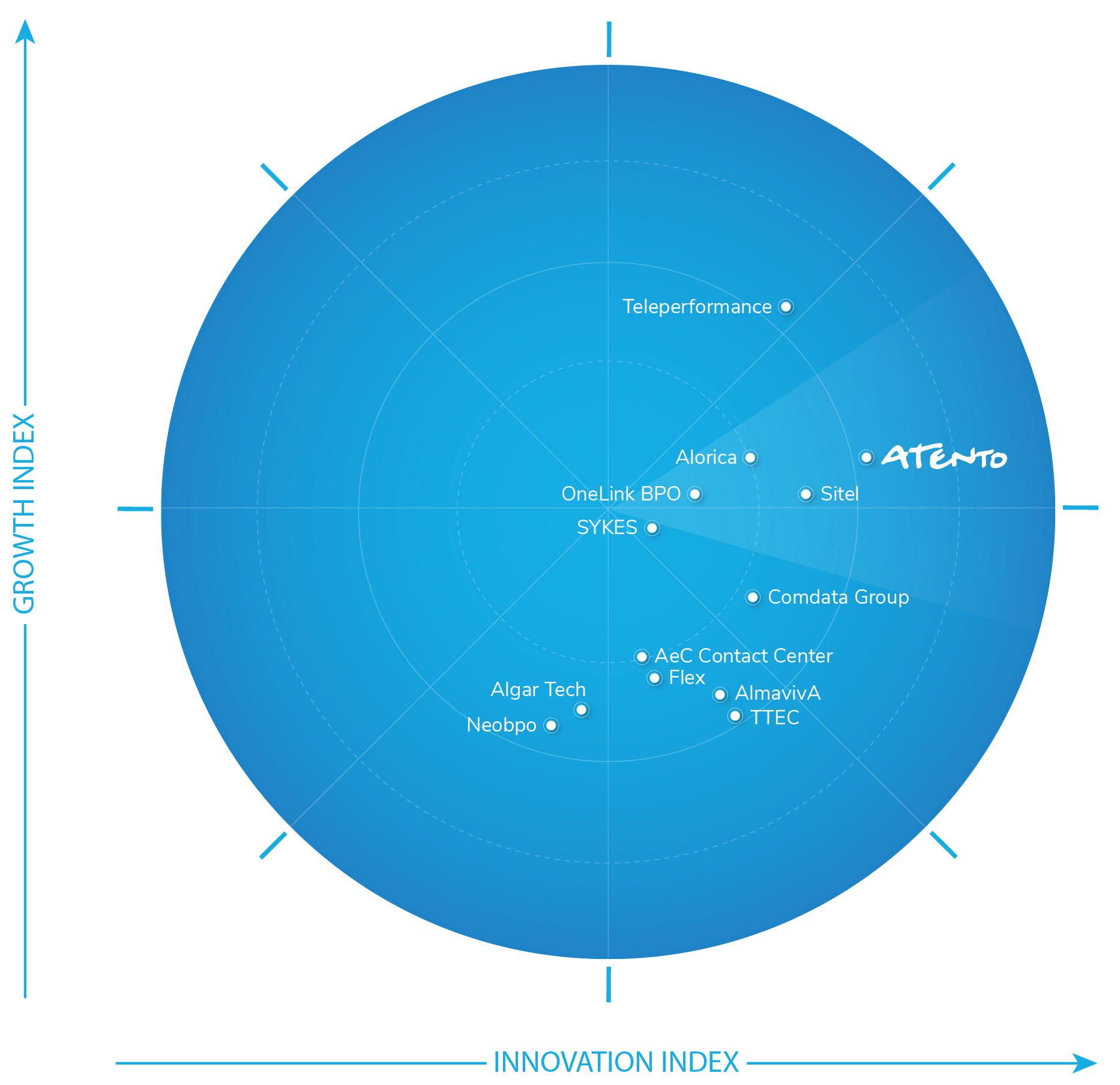 Customer experience (CX) is becoming the main factor influencing customer loyalty and a key differentiator when deciding the future of a company. The demand for outsourced CX services is constantly growing in today's consumer-centric market, as customers demand more personalized, relevant, proactive and engaging experiences.
Atento is leveraging advanced technologies (such as AI, natural language processing (NPL), analytics, intelligent virtual agents, and facial recognition) to improve its products in customer service, sales, collections, and back office. In this context, Atento led the Frost Radar in Innovation (score of 4.5 out of 5); obtaining a higher than average score on the Growth Index.
Sebastian Menutti, Industry Principal at Frost & Sullivan notes of the company, "Atento has completely redesigned their offering based on the intensive use of several emerging technologies (e.g. AI, RPA, LPN, Sentiment Analysis, Data Analytics), and a significant part of their new sales are driven by these new products. The company has shown solid growth in born digital companies, as well as exhibited many cases of successful digital transformation of traditional and large customers, most of which have stable long-term relationships with Atento".
Committed to innovation
The company has recently redesigned its portfolio of services to offer comprehensive solutions throughout the customer lifecycle using advanced technologies combined with the human touch provided by its agents.
Atento leverages cognitive technologies, natural language processing, and AI for the analysis of feelings and interactions in order to achieve an end-to-end digital sales value proposition, from attraction, conversion and activation to cross-sell and up-sell.
Among the reasons why it has been chosen as a leader, it stands out as the first company in the BPO scene to obtain the ISO 56.002 certification for innovation management. It is also the only company in the market that manages a start-up accelerator to take advantage of emerging technologies and methodologies.
"We are proud to be recognized by Frost & Sullivan as the Innovation and Growth Leader in the Frost Radar ™ report for Customer Experience Outsourcing Services Market in Latin America," says Carlos López-Abadía, CEO of Atento." Atento has a long history of growth in strategic sectors such as technology, born-digital, and media and entertainment. We take advantage of the 'War Room Design' methodology to streamline sales with existing and potential clients " , adds Lopez Abadía.
Recognition of growth
Likewise, this recognition also rewards Atento's leadership in the market in terms of revenue. The company continually diversifies its client portfolio, incorporating companies from new sectors and thus achieving positive growth rates in most verticals.
Atento cuenta con una amplia base de clientes con relaciones a largo plazo, con un Índice de Satisfacción del Cliente de 88 puntos de media y un Net Promoter Score de 47. Además, mantiene una posición destacada en los mercados de Argentina, Brasil, Chile, México y Perú.
Atento has a broad customer base with long-term relationships, with an average Customer Satisfaction Index of 88 points and a Net Promoter Score of 47. In addition, it maintains an outstanding position in the markets of Argentina, Brazil, Chile, Mexico and Peru.
Agent contact centers are no longer limited to answering inquiries, taking orders and resolving customer concerns over the phone. They are evolving into customer engagement and management centers that support omnichannel communications and leverage the latest technological advances to enhance CX.
Legal Disclaimer
Frost & Sullivan is not responsible for any incorrect information supplied by companies or users. Quantitative market information is based primarily on interviews and therefore is subject to fluctuation. Frost & Sullivan research services are limited publications containing valuable market information provided to a select group of customers. Customers acknowledge, when ordering or downloading, that Frost & Sullivan research services are for internal use and not for general publication or disclosure to third parties. No part of this research service may be given, lent, resold, or disclosed to noncustomers without written permission. Furthermore, no part may be reproduced, stored in a retrieval system, or transmitted in any form or by any means—electronic, mechanical, photocopying, recording, or otherwise—without the permission of the publisher.
 
About Atento
Atento is one of the five largest global providers for client relationship management and business process outsourcing services nearshoring for companies that carry out their activities in the United States. Since 1999, the company has developed its business model in 13 countries with a workforce of 150,000 employees. Atento has over 400 clients for which it provides a wide range of CRM/BPO services through multiple channels. Its clients are leading multinational companies in the technology, digital, telecommunications, finance, health, consumer and public administration sectors, amongst others. Atento trades under ATTO on the New York Stock Exchange. In 2019 Atento was recognized by Great Place to Work® as one of the 25 World's Best Multinational Workplaces and as one of the Best Places to Work in Latin America. For more information: www.atento.com
Media inquiries
press@atento.com