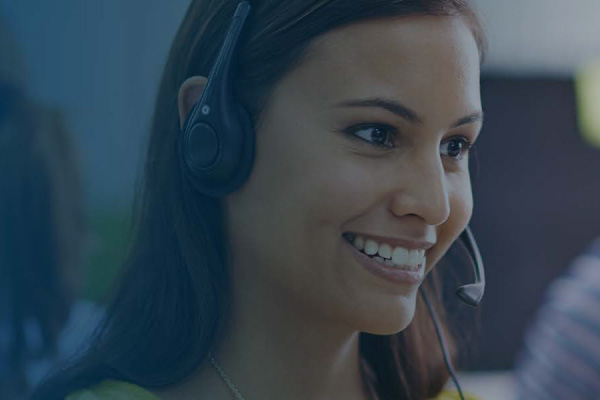 Atento Offshore
Taking your customer care operation offshore can bring significant cost-optimization benefits. Whether you're new to CX offshoring, or looking to expand your existing offshore customer care offering, these key elements of success should be part of your strategy:
Strong knowledge of local talent pools, for higher efficiency, speed and quality of staffing
Processes and methodologies to deliver culturally relevant and US-Market-Ready customer care from anywhere in the world
Infrastructure and technology to support consistent service levels and business continuity
A Global Delivery Model that allows for the implementation of best practices and continuous improvement initiatives
Why Offshore with Atento?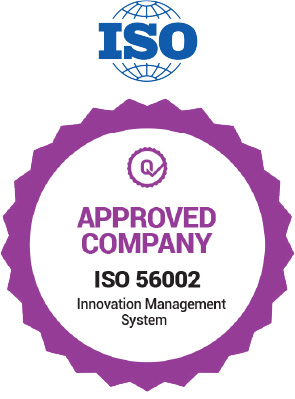 We are the first BPO to win the ISO 56002
for Innovation Management for two years in a row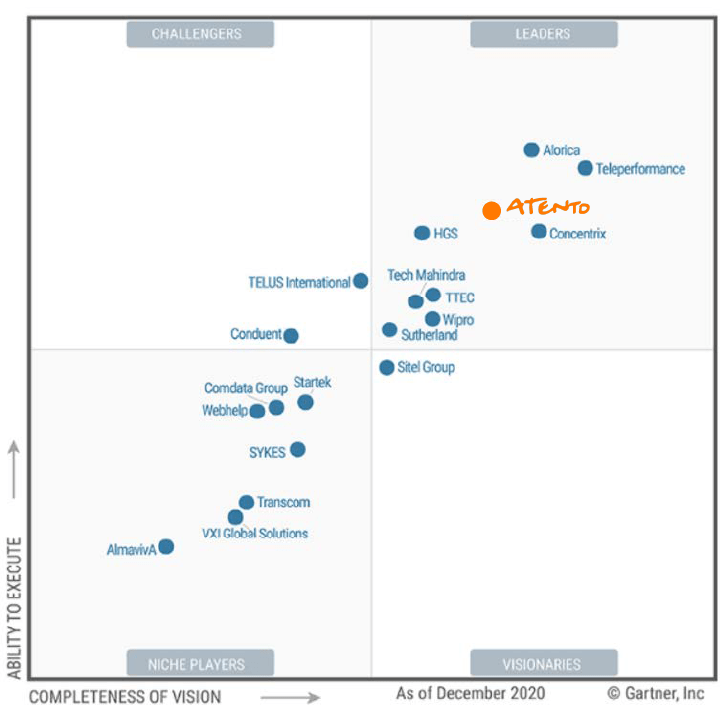 +20 years of experience delivering above-average employee experience results, positioning us as a Leader in the 2022 Gartner Magic Quadrant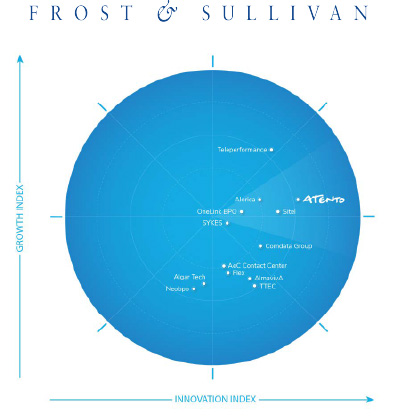 We are industry innovations leaders,
recognized on the Frost Radar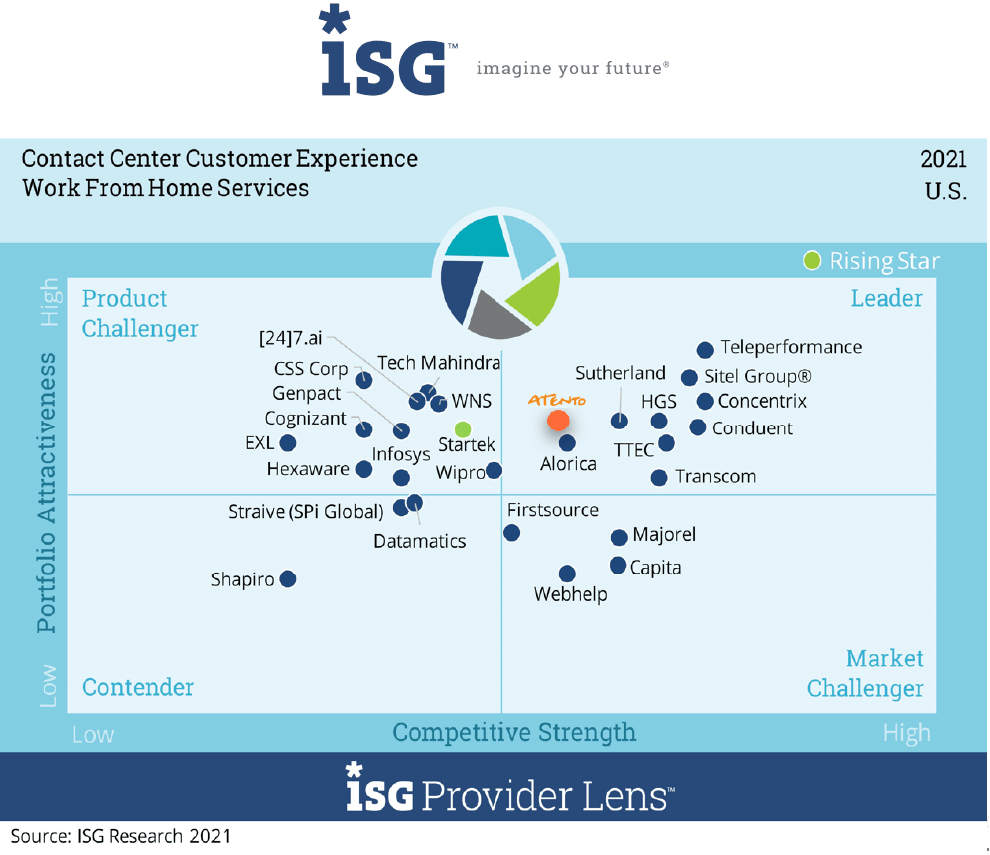 Multiple recognitions by ISG as a leader in Digital Operations,
Social Media CX and Work from Home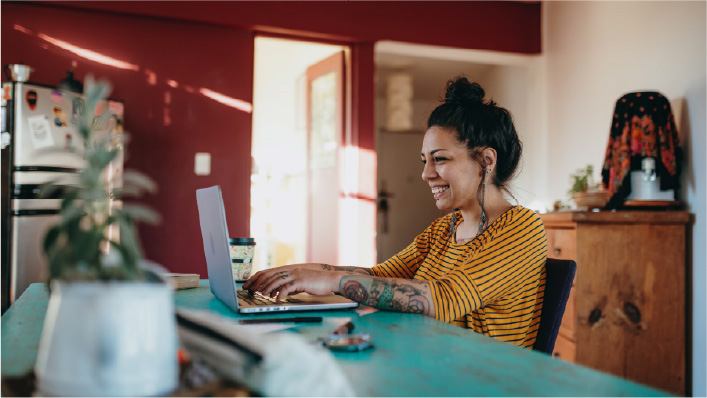 Atento@Home is our secure, cloud-native solution
that offers global flexibility, scalability, and specialized talent
to guarantee contingency and delivery excellence.

Atento Virtual Hub is our centralized operation center to manage remote teams, including recruiting, selection and performance management. Our Virtual Hubs provide clients with an integrated and fully customizable view of their customer's journey. Clients have real-time access to interaction data and customer insights that allow for enhanced decision-making processes.
Extensive experience developing multicultural
teams to service US-Based brand
A Committed Partner for Profitability and Growth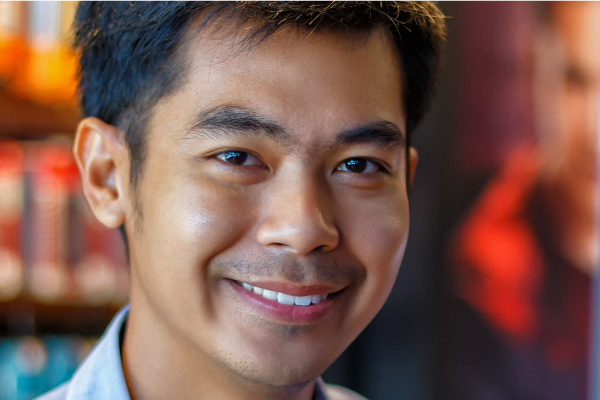 We bring a boutique approach to all the brands we partner with while leveraging our global scope and capabilities to promote agility and the highest service quality standards. This means you get personalized service and dedicated teams that are passionate about your products and services, with the commitment of a leading global CX leader.
Constant CX Innovation: we believe ground-breaking solutions come from the production floor. Our experienced designers develop tailored, insight-driven solutions based on customer insights and interaction data.
Brand Immersion: we make your brand the centerpiece of our employee experience. From the hiring to onboarding to service delivery, our CX experts dive deep into your brand's voice, personality and values.
Proactive Solutions: through a combination of lean processes (Six Sigma), automation (AI/RPA), and Next Generation Analytics, we deliver strategies to enhance your customer experience and enrich your product and/or services transformation plans.
The highest ESG standards
Enviroment
Genuinely committed to protecting the planet. We are aware that being environmentally responsible is essential.
Social
Our social actions reflect our values based on integrity, agility, client-oriented nature, and accountability.
Governance
We prioritize transparency with our investors and stakeholders.
The Philippines: An Offshore Outsourcing Gem
With a strong labor pool and an established technology infrastructure, The Philippines is an ideal location to expand your CX strategy while prioritizing business resiliency.
Established IT-BPM hub with proven capabilities in attracting and hosting major locators.
A rapidly expanding services industry.
Ambitious new infrastructure spending program.
Prolific CX Talent Market
Large-scale BPO Labor force of young, English-speaking, western-cultured and diverse CX professionals.
High cultural alignment with the North American market and high preference among leading brands.
A center of education and instruction, graduating tens of thousands of qualified college graduates annually.
An English-Speaking labor market, with a strong culture of hospitality and service, at competitive rates.
Stable business landscape, with substantial investments in people and technology
The Philippines' contact center outsourcing market is projected to grow (CAGR) by 6.2% annually through 2025.*