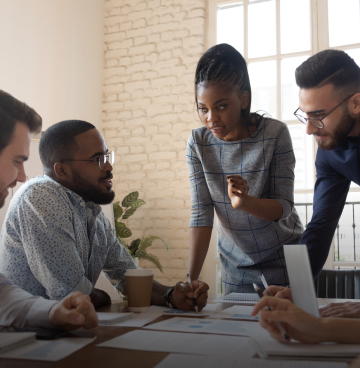 Crossing Borders
Attracting business opportunities in South America.
Challenge
With a long history of innovation and growth, the client company has managed to establish itself as the world leader in ERP systems development achieving an 80% share of the market in the Large Business sector.
The company now aimed to position itself as market leader for the Small and Medium Business sector. To reach this target, it contacted the Atento teams in Brazil and Argentina to help increase their market share across the 37 Latin American countries where they have a presence.
Strategy
Atento designed and installed a telephone-based solution, segmented by region, to attract business opportunities. The solution consisted of basing the outgoing calls on a list of prospective small and medium sized businesses offered by the client and enlarged with Atento intelligence. The customer base was then divided by country in order to involve native-born executives according to regional context.
Initially, the Atento executives were given the task of establishing contact with the decision makers at each company on the list. Then they analyzed the possible requirements of each potential client in order to offer an appropriate System Development solution for each individual's business needs.
Once a solution was proposed, the Atento executives would contact the client to confirm a visit. This visit would then be conducted by a specialized consultant who was responsible for closing the sale.
To make this process possible via telephone, Atento formed a special professional team for the project comprised of employees with backgrounds in sales and technology. Priority was given to professionals matching the nationality of the country to which the service was to be supplied to facilitate closer understanding of the regional context and the successful presentation of tailor-made solutions.
Results
Over the first year of the project, more than 81 million dollars worth of business opportunities were generated for the client.