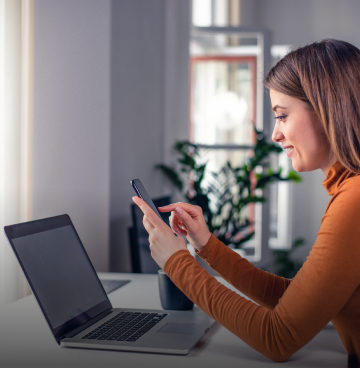 Automating the customer experience
Conversion of IVR to WhatsApp bot reduced service response time.
Challenge
First Data, a global leader in payments and financial technology, found at Atento, a partner with a wide and solid strength to offer a channel conversion solution (IVR to WhatsApp) to improve the consumer experience and reduce the time taken to respond requests.
Strategy
To help First Data be more effective in serving its customers, Atento has developed a flow for directing consumer phone contacts to a self-service channel on WhatsApp.
After contacting the IVR by phone and choosing the "Update Registration" option, the customer is informed that the service is provided via WhatsApp and an automatic message is sent to the consumer through the company's app.
After the channel migration, the consumer interacts with a bot that collects all the necessary data for the registration update.
Results
Reduction of 15 positions in the front.

Savings of 116 thousand reais in costs with customer service.

Improvement and agility in customer service during requests for registration update.

Service channel with a more intuitive and fluid experience.