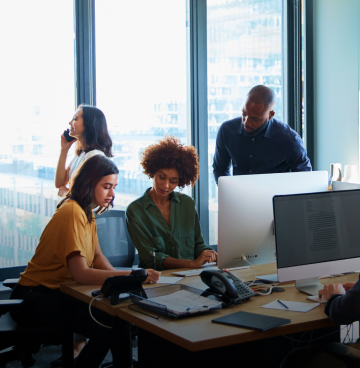 E-Promoter
Sales service through online promoters, the so-called e-promoters, developed for an electronics manufacturer. The solution allows consumers to interact in real time with a consultant via chat, voice or video to purchase products from the brand's portfolio.
Goal
Transform the experience of consumers by offering remote consultancy, increasing the number of sales and the final customer satisfaction index.
Strategy
Implementation of service via video chat within the website of the contracting company. By clicking on the 'Online store' icon and choosing the 'Online Promoter' option, consumers are directed to interact with a consultant via chat, voice or video. For this service profile, a film studio was created within the operation.
Results
In four months, e-promoters made more than 21,000 calls.

The level of influence on purchasing decisions reached 83%.

The satisfaction rate reached 89%.
Distinctions
The solution transformed the experience of people who needed consulting to choose which brand item to buy, but did not want to go to a physical store to do so. With this service we managed to show in real time all the features of the brand's launches, solving doubts, bringing more convenience at the time of purchase.